24 Jan

Tihomir Kamenov, the only Bulgarian entrepreneur in Davos, posted a question to Donald J. Trump on Twitter ahead of US President's speech at the WEForum this Friday

The 48. World Economic Forum (WEF) started yesterday. For the fourteen consecutive year Mr. Tihomir Kamenov, founder and chairman of Commercial League Group, is the only Bulgarian member attending the Forum. In 2004 in Warsow, on the occasion of the accession of the first ten Eastern and Central European countries to the EU, Mr. Kamenov received a formal invitation to join the forum personally by the founder Professor Klaus Schwab.

This year, the Forum will be attended by a Bulgarian delegation headed by Prime Minister Boyko Borisov. This is the first time since 13 years when a Bulgarian Prime Minister will be present in Davos.

It has already become a tradition that the Bulgarian entrepreneur Kamenov poses questions to the world political leaders. Last year, he asked the Chinese Head of State and Chairman of the Communist Party Xi Jinping a provocative question and received an answer.

Earlier today Tihomir Kamenov posted a question to US President Trump in his Twitter profile: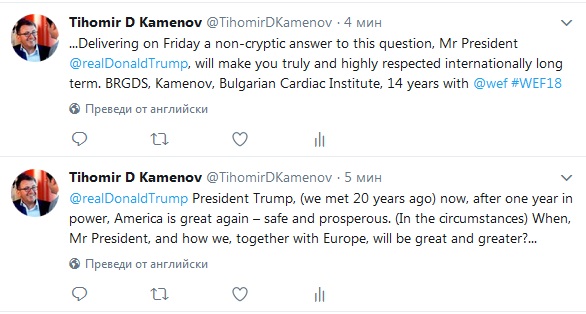 The questions is expected to provoke widespread interest, and the answer to be received this Friday, 26 January 2018, when President Trump will attend a special session on the WEF. Bulgarian Prime Minister will also be present at the assembly.