21 Jan

Tihomir Kamenov, Kristalina Georgieva and Boyko Borisov together in a session about the Western Balkans

The 50th edition of the World Economic Forum starts today.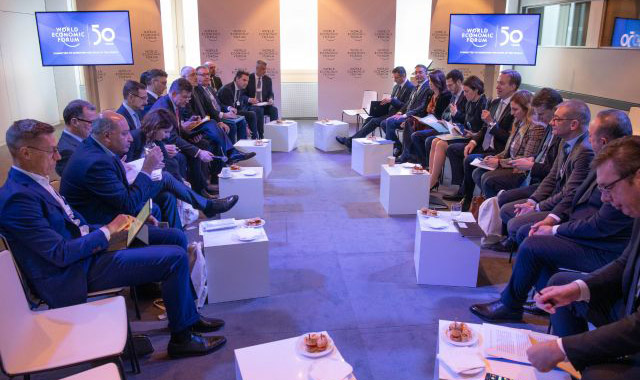 Diplomatic dialogue on the Western Balkans Session, WEF AM 2020
Today begins the 50th anniversary edition of the World Economic Forum in Davos. The main focus this years is on ESG – ecological social governance. In this context, thanks to its sterile manufacturing, own water supply, energy saving equipment, energy reduction technologies and gasification project for its plans, Tchaikapharma manages to qualify amongst the scarce number of pharmaceutical producers with negative environmental footprint.
The "Diplomatic dialogue on the Western Balkans" session will be held this morning. Will be attended by the presidents of Serbia and Kosovo – Alexander Vuchich and Hashim Thaçi, the prime minister of Slovenia – Marian Sharetz, Turkish minister of interior – Mevlüt Çavuşoğlu, Thomas Greminger – general secretary of the OSCE, the president of European Bank for Reconstruction and Development – Sumatra Chakrabarti, Kristalina Georgieva, Boyko Borisov and Tihomir Kamenov – founder and chairman of the Commercial League Group who received a special invitation for the event.
The session represents a follow-up of the strategic dialogue on the Western Balkans in Davos (January 2018) and Sofia (May 2018), which is one of the principle initiatives in the agenda of Forum Europe. Participants will discuss how to potentially improve regional cooperation in order to create opportunities for transforming the economic environment in benefit for the region.
All senior members received special invitations from Prof. Klaus Schwab to attend the opening ceremony and celebration of the anniversary.
The original article is available here in Bulgarian.